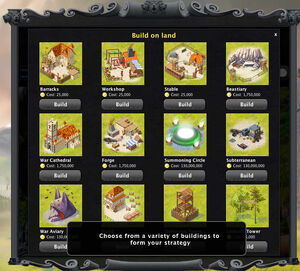 Beginner Guide
Edit
First you will need to create a new account by either downloading the KaW app on the App Store/Android Market with your iPod/iPhone/Android or by going on in the KaW website and clicking log in.
The Tutorial
Edit
Complete the totorial. Sell the non-spy building. Go to WC (world chat) and asked to be volleyed to 3bill (volleying is any number of players buying you again and again). Then buy 9 more lands. You will have unlocked Tier 2 buildings. Build a Beastiery and War Cathedrils and/or Forges. Every 5 lands or so, build a guild and upgrade to level 3 straight away. Do this till LC (land complete). Reset for the acheivements if wanted.
Ad blocker interference detected!
Wikia is a free-to-use site that makes money from advertising. We have a modified experience for viewers using ad blockers

Wikia is not accessible if you've made further modifications. Remove the custom ad blocker rule(s) and the page will load as expected.